Secure Managed
IT Services
A secure foundation for your IT
Are you in search of a competent partner when dealing with your IT? If you want a secure and reliable IT environment, Solvinity offers you what is required. You keep control of your IT while your organisation grows responsibly.
Ready to switch to the cloud? Transform your IT-environment with Managed Cloud Services.
READ MORE
Reliable and secure IT environments are needed in every industry but indispensable in some industries. That's why governments, financial institutions and the business service industry rely on our solutions. Choose a sector and read about your options.
Security first, structured overview and a flexible IT environment offering the best customer experience. That's exactly what we do at Solvinity. It's our essence. 
More speed, functionality and (self) service for your customers? Solvinity offers you the solution: a stable IT environment. Which is why business services enjoy fruitful cooperation with us.
Great challenges for new Solvineers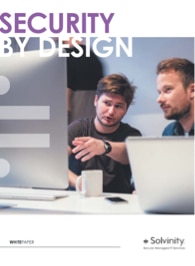 Security by Design white paper
Security starts at the foundation
In our work as an IT services provider we strive for a secure digital future. You might ask yourself if this is still possible in a time in which even the most amateurish cyber criminal can cause great damage to organisations. Our answer is 'Yes!'. Together with our customers we do everything we can to create a solid basis for a healthy digital future. And that starts with the foundation. 7 July 2021
Read about the main results or order the book of the Giarte IT-Xperience research 2021, in...
READ MORE
6 July 2021
Solvinity has achieved PCI DSS certification for the new OVpay environment, Translink's generic back-office system.
READ MORE
29 June 2021
To further improve access to public transport, Translink was looking for more flexibility in a scalable,...
READ MORE
Meld je aan voor onze nieuwsbrief
Elke twee maanden het laatste nieuws in je mailbox met interessante artikelen, events en andere publicaties over thema's zoals cloud, security, de werkplek en automation.